Last month I made the pilgrimage to Lake Placid, NY, to celebrate my 12th wedding anniversary with Congress. We made the same trip two years ago, and I am thinking we will keep making the trip again in future years. There are two reasons why. The first is that it is quite peaceful, relaxing, and we can simply walk around town without anyone recognizing us as a SQL Rockstar or professional photographer. Sometimes it is nice to be anonymous. The second reason is why I am writing this blog post.
I consider Lake Placid to be a sacred place. When I go there, I like to sit in the same spot and reflect upon things. That spot is in the top row of the lower section inside the Herb Brooks Arena. I sit there and reflect upon lots of things. I think about what a different world it was in 1980, when those twenty kids (average age of the team was 22 years old) won the gold medal in Ice Hockey at the Winter Olympics. I look up at the scoreboard and think about Eruzione scoring with exactly ten minutes left. I think about all the times I have watched the final minutes of the game, including the original tape delay on that day almost thirty years ago.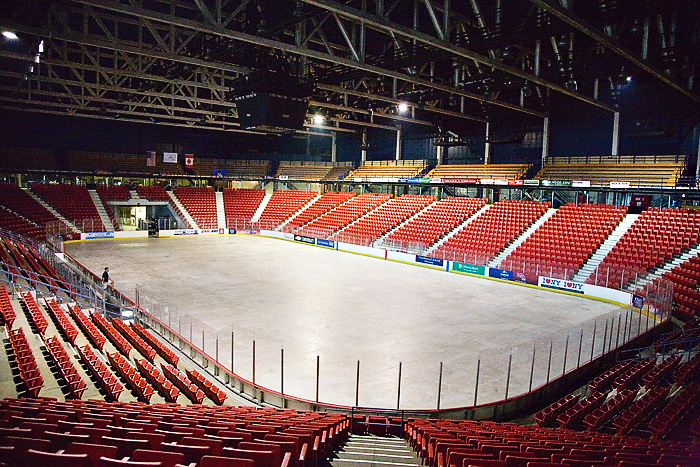 And I also think about how incredible it is that these twenty boys were able to band together with a common purpose. To win the gold medal? No. Because they loved their country? Nope. They came together because they hated and feared their coach. And that was fine for Herb Brooks, he was not there to be liked, he was there to coach. He was there to lead. And he knew that every day, every minute counted. His team could not afford to take one day off, because Team USA was quickly and only recently assembled, and the top teams in the world operated more like club teams, having played together for many years. So, Coach Brooks focused on the elements he could control. He focused on stamina, speed, and discipline and spent a year and a half recruiting the right players which included psychological tests. He was not there to be loved, he was there to succeed, most likely driven by his own personal demons.
I have often heard the story about how Coach Brooks was the last player cut from the 1960 team, a team that went on to win the gold medal. After the final game was over, Coach Brooks' father turned off the radio, turned to his son and said "Well, it looks like they cut the right guy." Gee, thanks Dad. Who could foresee that the lack of love and affection would come back in the form of a man bent on proving that he could be successful in a game he loved so dearly?
So while in Lake Placid, I made Congress walk into the arena and sit in the stands with me. I think about all of those things as I wrote above, and I also think about how they call it the 'Miracle on Ice' but they should not because that gives the impression that there was some divine intervention, or luck. Unless the divine intervention was having Herb Brooks placed on this Earth, or having Coach Tikhonov replace his star goalie after the first period, then you should drop the 'Miracle' tag. What about luck? Well, let me tell you what I think about luck.
Luck is when preparation meets opportunity. And to say that these guys got lucky in this one game is selling them short. Coach Brooks had his team prepared, and when the opportunity presented itself, they took advantage.
Do some research and find out what the Russian players that day think about the result and you will find that there is a general consensus: the better team won that night. Oh sure, perhaps a few weeks earlier Team USA lost 10-3 to that same USSR squad. Maybe that is why you might think they got lucky, or that a Miracle took place? Over the years I have read many articles about the game and the players and I recall hearing about how the Soviet players were amazed that as the game went on the USA players seemed to be getting stronger. That's conditioning. They were all selected because they had the speed necessary to compete at this level, and they were very well disciplined both on and off the ice. In short, Coach Brooks put together a team that would not make very many mistakes, and quite often in life (and sports) it is the person who makes fewer mistakes that comes out ahead in the end.
Sitting in that arena will make my emotions flow. I think of that game, my own days playing sports, and my days as a coach. I think about the crowd that night, and the world politics at play. I think about…well…everything. What if Coach Brooks has them skate one "Herbie" less, would they have had enough conditioning? What if they had played somewhere else, without the home crowd to give them a boost? Would they not have been able to survive those last ten minutes?
My father used to tell me all the time that "…once is lucky, twice is good." Which means that anyone can do something once, but doing it twice means that luck is no longer a factor. Perhaps you can make a case that Team USA got lucky that night, but I don't believe that. What I believe is that one man had a vision, and a plan, and executed it with meticulous detail.
If only we could all be so driven in our everyday lives about things that matter the most.