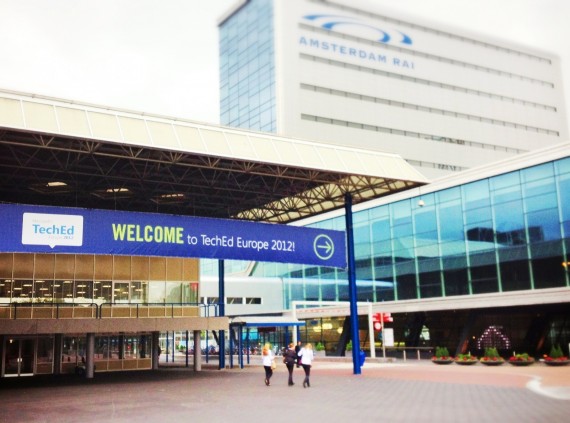 June is now behind me, as are both TechEd North America and TechEd Europe. I am very, very grateful to Microsoft for giving me the opportunity to present at both events this year. To say that Orlando and Amsterdam are different cities is a bit of an understatement. I could fill another few blog posts with all of the details and photos I took (almost 600 photos in eight days), and likely will do some over time.
I think both events were run very well. A quick list of things that come to mind about the difference in the events would include:
Orlando was HUGE and quite spread out to get from one end to the other.
The food at the vendor reception in Amsterdam was difficult to find as you needed to locate someone walking around with a serving tray.
But the food in Amsterdam itself was AMAZING compared to what you would find in and around Orlando.
In Amsterdam you could easily get into downtown, which is a lot more interesting than downtown Orlando (does Orlando have a downtown?)
Orlando has Disney World. 'Nuff said.
Presenting at TechEd
All of my sessions at both events were done with a co-presenter. The SQL Server precon sessions were delivered by Denny Cherry (blog | @mrdenny) and me. Precon sessions are all-day sessions (eight hours) with breaks for lunch and snacks. In Orlando Denny and I presented SQL Server Performance Tuning and Optimization on Sunday, and in Amsterdam it was on a Monday. In both case it was the day before the breakout sessions. It was also my first ever attempt at doing a precon session. That's kinda like having your first ride on an airplane turn out to be a rocket that lands you on the moon.
In Orlando I also participated in a breakout session with Dandy Weyn (@ilikesql) and Sean Boon, and in Amsterdam I presented a session with Chuck Heinzelman. Presenting with someone else is a very different experience. For starters, it is difficult to rehearse! When your partner is someone with a lot of speaking experience it does make life easier. I was fortunate to have those other guys in the room as it meant I didn't need to be "the show" all by myself. I could focus on my portion of the session and make sure it fit in well with the overall talk. However, it also meant that I didn't have control over the other portions so I needed to trust that those folks would deliver great material, which they did.
In Amsterdam the breakout session with Chuck was titled "Deploying Microsoft SQL Server 2012 Using Windows Server Core". I am not an expert in PowerShell, so this was outside of my comfort zone. One thing I have found in my life is that I am often a better person for taking on such challenges. By choosing the more difficult path I challenge myself to become better. So naturally I accepted this challenge of presenting on PowerShell. As luck (?) would have it Chuck had not presented a lot on PowerShell either so we both were forced to learn something new. We also needed to learn how to present with each other, to make sure our demos worked together, and how to present in front of an audience whose collective first language would not be English. What could possibly go wrong? Fortunately for us, not much did (we currently have a 3.83 score out of a possible 4 for "Overall Satisfaction").
Microsoft Booth Duty at TechEd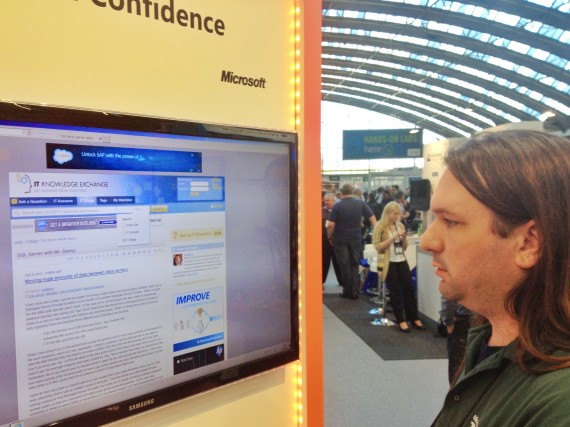 Another aspect of presenting at TechEd is working the Microsoft booths. My only previous experience as a "booth beefcake" is for Confio. The experience in the Confio booth is different, as people come to us for information about our database performance products or have questions that relate to something regarding our VMWare products.
When you work the Microsoft booth you get lots of different questions thrown at you. I had questions about SQL 2012 enhancements for filestream, spatial enhancements, separation of duties and security, virtualization best practices, BI reporting solutions, and even a question about taking backups of AlwaysOn secondaries. Working the booth in Amsterdam also meant that language could be a barrier but also regional differences could manifest themselves. This was especially true when it came to privacy and security questions.
5 Tips For Presenting With Others
Looking back on both TechEd events it would seem that I forced myself to do a lot of things outside of my normal comfort zone. Staffing a booth was one of those things and presenting sessions as part of a team was another. What strikes me most is how the preparation for those sessions is essentially the same as for when you are doing a session by yourself, but you attack some of them slightly differently:
Research your subject; make certain you are thinking about the audience. What questions would they have? What are the takeaways you want them to have? I spent extra time researching topics that were newer for me. I wanted to be able to not just read off the functions but talk about how PowerShell was now a viable tool for DBAs to be using immediately. I didn't want to just be reading a document to the crowd, but to put that information in context of completing a task. At the end of the talk I wanted everyone to leave that room thinking "I need to start using PowerShell".
Create a story outline. This helps tremendously when pulling together your demos and ensures a smooth transition from one speaker to the other.  The transition part is important to ensure that multiple presenters don't come across as just two random people presenting in the same room at the same time.  It was also important for meeting our goals for what people would leave the session with – the outcomes we wanted to deliver.  We didn't want anything to fall through the cracks.
Prepare! You won't be able to rehearse with your partner very much, so you need to make certain that your content is good and your demos will work. I realize now that I needed to budget more prep time than I normally would, just to handle co-ordination, negotiation, transitions and balance.  It helped as well with understanding how our presentation styles were going to play off each other.
Relax and have fun. Chances are something will go wrong, so don't worry about trying to prevent that from happening. And if something does go wrong, don't call attention to it in any way, just keep moving along as if you expected that to happen. I try to follow Karen Lopez's (blog | @datachick) advice about speaking when things go wrong.
Remember that you are there for the audience, and not for yourself. To me the only evaluation score that truly matters is "Overall Satisfaction", as that is the true measurement of the success of the session.  The other measures are important for feedback as a speaker, but you want people to feel that their time spent with you was well worth it.  Keeping that as your focus during the process I've outlined here will help your attendees more than anything else.
I'm really glad that I stretched myself these past six months to present at TechEd. It was an extra workload, and it was worth it.